The power rear sunshade covers the rear window of the vehicle.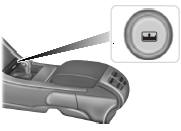 The control is located in the center console access bin.
Press the control to move the sunshade up or down.
Note: Do not try to manually move the sunshade.
The sunshade has a one-touch down feature. Press and release the control to move the sunshade down. To stop motion during one-touch operation, press the control a second time.
The sunshade automatically retracts when you move the gearshift lever to position R.