SPECIFICATIONS
Torque Specifications

DESCRIPTION AND OPERATION
Acceleration Control
The acceleration controls consist of the accelerator pedal and sensor assembly.
The engine management system electronically operates the throttle of the engine in response to throttle pedal movements initiated by the driver. In the event of a system failure, the engine management system provides a "limp home" mode which allows the car to be driven with limited performance.
DIAGNOSIS AND TESTING
Acceleration Control
Refer to the Powertrain Control/Emissions Diagnosis (PC/ED) manual.
REMOVAL AND INSTALLATION
Accelerator Pedal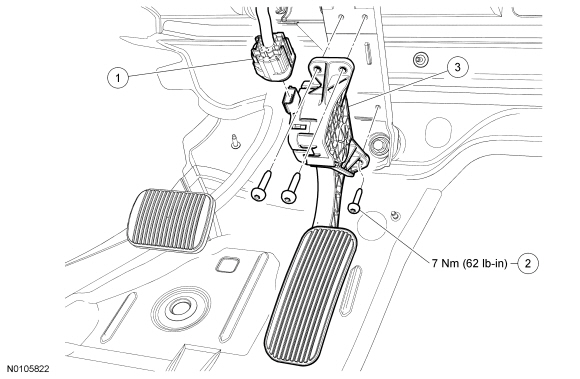 Removal and Installation
Disconnect the accelerator pedal sensor electrical connector.
Remove the 3 accelerator pedal and sensor bolts.

To install, tighten to 7 Nm (62 lb-in).
Remove the accelerator pedal and sensor assembly.
To install, reverse the removal procedure.