Intelligent Oil-Life Monitor®
Your vehicle is equipped with an Intelligent Oil-Life Monitor that determines when the engine oil needs to be changed based on how your vehicle is used. By using several important factors in its calculations, the monitor helps reduce the cost of owning your vehicle and reduce environmental waste at the same time. This means you won't have to remember to change the oil on a mileage-based schedule; the vehicle lets you know when an oil change is due by displaying ENGINE OIL CHANGE DUE or OIL CHANGE REQUIRED in the information display.
The following table is intended to provide examples of vehicle use and its impact on engine oil change intervals; it is provided as a guideline only. Actual engine oil change intervals depend on several factors and generally decrease with severity of use.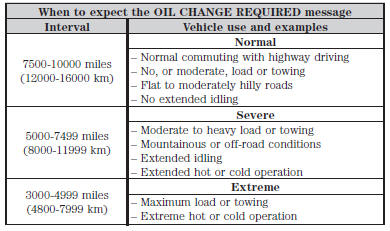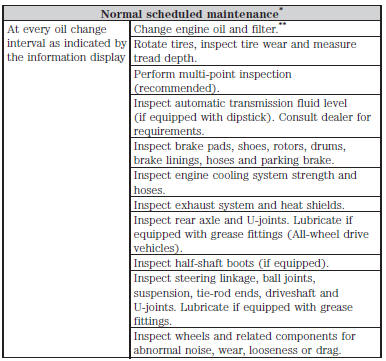 *Do not exceed one year or 10000 miles (16000 kilometers) between service intervals.
**Reset your Intelligent Oil-Life Monitor after each engine oil and filter change. See the Instrument Cluster chapter.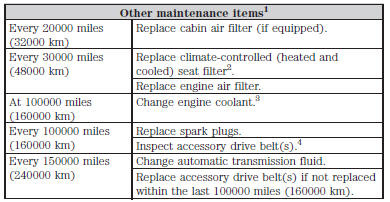 1.These maintenance items can be performed within 3000 miles (4800 kilometers) of the last oil change. Do not exceed the designated distance for the interval.
2.If your vehicle has climate-controlled (heated and cooled) seats.
3.Initial replacement at six years or 100000 miles (160000 kilometers), then every three years or 50000 miles (80000 kilometers).
4.After initial inspection, inspect every other oil change until replaced.